Service
If you are an existing customer and would like to reach Trion's Customer Service Department, fill out this form:
For Customer Service outside of the United States of America, please view our contact information page.
We provide:
Process support prior to purchase
Process support subsequent to purchase
Pre-installation
Installation

Pre-installation package
Field Engineer turns on system
Training on operation and calibration
Agreed process set-up
Field Process Engineer helps with process

Start-up
Warranty

Remote support via email and phone
Rapid parts dispatch, and exchange program
Onsite field support

Service contract
System manuals
System maintenance

Contracts, preventative maintenance, health-checks and upgrades

Free phone support
Process recipes

Process advice, and consultation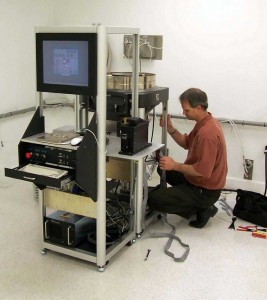 ---
System spare parts
Training

In installation of the tool, a complete training on the operation and maintenance of the system will be conducted for the users and maintenance personnel. This training covers mechanical, electrical, vacuum pumps checks, RF tuning and software setup.
---
Compliance:
UL Rated
CE certified, and marked
SEMI S2, S8 compliant
NFPA 79

National Fire Protection Association standard provides safeguards for industrial machinery to protect operators, equipment, facilities and work-in-progress from fire and electrical hazards

SMEMA Electrical Equipment Interface Standard

Surface Mount Equipment Manufacturers' Association standard to facilitate the interface of equipment used in the manufacture of printed circuit boards





---
Service News
---
What Our Customers Say:
"I wanted to personally take time to thank Trion Technology, and in particular James Cianci, our Florida representative, for the outstanding level of service provided during a critical time in our current R&D development work. James was both patient and professional while emailing and walking me through several maintenance issues on the Trion Apollo. James's help was crucial in the resolution of our particle issue as well as my dive-in exposure to the tool over a three-day period. James went above and beyond to help me, even on a Sunday night. Thank you for your shining example of a fading courtesy, customer service!" – Lou Pomales, Senior Technical Associate, BRIDG
"Thank you for the prompt response and the information. I find it so refreshing when I encounter a company such as Trion that will take the time to give suggestions as to where to go for an item when they can't provide it." – Robert (Bob) Brebber, Specialist Technician -NanoFab, University of Alberta
"Again I want to once again dearly thank you for your kind help throughout this whole issue. Your after sales service team and yourself are truly brilliant and I would always recommend your company in the future." – Arash Hajjam, Licensed PE (Colorado), University of Denver
"We just wanted to drop a quick note, to thank Trion. Recently John visited with us to install and upgrade our Trion RIE tool. John was extremely knowledgeable and professional, he knew exactly what to do, and completed the services in a timely manner. It was a pleasure working with John. Thank you for your great support!" – Shannon Smith, AMD
"Thank you for the excellent service and the prompt turnaround. It is greatly appreciated. If every one of our tool suppliers operated like Trion my life would be a lot easier." – Robert (Bob) Brebber, Specialist Technician -NanoFab, University of Alberta
"Continuing to do courtesy service on our older, out-of-warranty machines has really sold me on excellent customer service."
"Super job! Very knowledgeable. He fixed several additional issues with the tool he spotted. He also looked at an additional tool in the CFA Lab. Thanks a million."
"Thanks for having a crack at etching our InP-based material and we will keep your suggestions in mind. We have had some great success getting the Trion systems online and we are using them extensively in our InP-based VCSEL product development. You'll also be pleased to know that the ICP/RIE system you assisted me with at Trion is working like a charm." – E.S.
"I really have to thank you for such a timely response on our service call. Your technician was great, we really needed our machine up and running by this morning so yesterday he worked at our lab until midnight and made it happen! Really nice of him, and thanks again!" – L.O.
"Thanks! I have really enjoyed working with Trion. This was my first experience evaluating, purchasing and installing a piece of equipment for this company, and the customer service and general responsiveness from Trion made everything possible." – M.K.
"I have been very pleased with the continued support with respect of answering emails, returning phone calls, and timely on site visits."
"They did a fantastic job addressing the various system problems that we faced – the efforts were appreciated. Quick response by Trion to the various software and hardware issues allowed us to successfully meet a critical DOE deadline for lab readiness."