Oracle Production Cluster Tool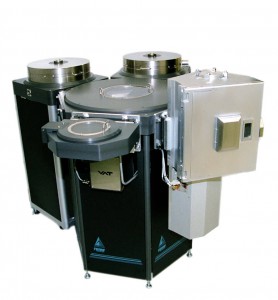 The Oracle is the smallest and most flexible full production cluster system on the market. The system consists of a Central Vacuum Transport (CVT), Vacuum Cassette Elevators and up to four Process Reactors. These process reactors are docked to the central loadlock and run in production-mode or can be operated independently. The Oracle can also be configured for either the laboratory environment (with single wafer loading) or for full production (with vacuum cassette elevators).
Because the Oracle accommodates up to four separate process chambers, there are many possible process combinations, including ash, etch, and deposition modules. Processes are safely run without atmospheric contamination since all chambers are vacuum loadlocked.
---
Applications
Compound Semiconductor, Photonics, Research & Development, Pilot Line, Production.
DEPOSITION
Films Deposited:
Oxides
Oxynitrides
Nitrides
Amorphous Silicon
Silicon Carbide
Process Gases:
100% Silane
<20% Silane
Ammonia
TEOS
Diethylsilane
Nitrous Oxide
Oxygen, Nitrogen
Trimethylsilane
Methane
ETCH
Fluorine Etch Processes (SF6, CF4, CHF3, O2):
Carbon
Epoxy
GaAs/AlGaAs
Ir
Mo
Nb
OxyNitride
Polyimide
Pr (e.g: SiLK or SU8)
Quartz
Si
SiC
SiO2
Si3N4
Ta
TaN
TiW
TiN
W
Corrosive Chemistry Etch (Cl2, BCl3, SiCl4, HBr, NF3, etc.):
AlGaAs
Au
Carbon
Cr
Cu
GaAs
GaN
InAlGaN
InGaAs
InGaN
InP
LED MQMs
Polysilicon
Pr and other organic materials
Pt
Si
SiC
Ti
---
---
Request Quotation
---